Written by Susan L. Pena.
In the endless menagerie of jazz formats, an unamplified concert is perhaps the rarest bird of all. But thanks to Boscov's Berks Jazz Fest's new partnership with the WCR Center for the Arts, that what the audience heard Thursday night when the Hot Club of Reading,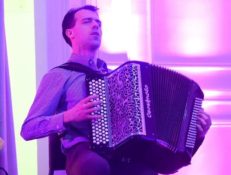 with guest accordionist Julien Labro, appeared in that venue sans amps and speakers.....Labro, originally from France, is a member of the Hot Club of Detroit whose virtuosity on the button accordion is matched by a dazzling creativity and a big heart, as he demonstrated in solo after solo.
Full Review Here