By Paul Brady
After some serendipitous beginning, a forward-thinking string quartet and a composer/accordionist with deep jazz cred are collaborating on new repertoire for their hybrid ensemble.
Lake Michigan's South Shore is dotted with steel mills and meat-packing plants, rail yard and highwa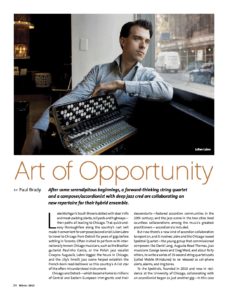 ys – their paths all leading to Chicago. That quick-and-easy thoroughfare along the country's rust belt made it convenient for composer/accordionist Julien Labro to travel to Chicago from Detroit for years of gigs before settling in Toronto. Often invited to perform with internationally known Chicago musicians, such as the Brazilian guitarist Paulinho Garcia, or the Polish jazz vocalist Grazyna Auguscik, Labro logged the hours in Chicago; and the city's limelit jazz scene helped establish the French-born reed-bellower as this country's A-list start of the often misunderstood instrument.
FULL ARTICLE from the Chamber Music America magazine