Little warm up before session with pianist extraordinaire Fernando Otero
The creative connection between Fernando OTERO and Julien LABRO has taken form in their collaboration under the name of "CHAT".
The album contains compositions by both musicians, in which improvisation plays a major role,  exploring countermelodies with their respective instruments creating a solid soundscape.
By Sarah Ritzmann
Last Monday night, the Pablo Aslan Quintet performed in Brooks-Rogers Auditorium as part of the Ernest Brown World Music Series. The group, headed by Argentinian-born artist Pablo Aslan, delighted a diverse audience ranging from current students to faculty members to members of the local townsfolk with a lively tango-infused jazz. Aslan has performed and recorded with a number of prominent artists including Yo-Yo Ma, Shakira and the Philadelphia Orchestra, among many others. Aslan leads his quintet on the bass, accompanied by pianist Emilio Solla, drummer Eric Doob, Diego Urcola on trumpet and Julien Labro on the bandoneon.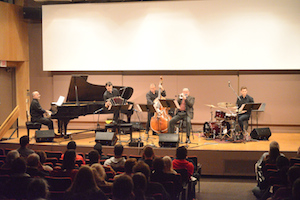 …Labro also had a fantastic solo on the accordina, which is a handheld instrument that produces an even sweeter tone than the bandoneon. Labro entranced the crowd with a masterfully improvisational solo, his fingers moving seemingly at the speed of light to play frankly ridiculous sequences of notes without a single misstep. …
Full review here
By Mike Telin
June 3, 2014
The evolution of classical guitar music continued at 7:30 when guitarist Jason Vieaux was joined by his frequent collaborator Julien Labro on bandoneón, accordion and accordina. One always hopes the final concert of a festival will be something special that sends audiences home in anticipation of the next edition and Vieaux and Labro did not disappoint.
Given the two began their musical partnership with their 2011 celebrated recording on the Azica label titled The Music of Astor Piazzolla, it was fitting for them to begin their program with a work by the father of Tango Nuevo. Composed in 1986, Histore du Tango consists of four movements that describe the evolution of Tango. Vieaux and Labro performed the first, "Bordel 1900" and the fourth, "Concert d'Aujourd'hui".
Originally scored for flute and guitar, the piece is often performed in various instrumental combinations (guitar and bandoneón for this performance) Now for my dirty little secret: I have always hated this piece. That was, until last Sunday night. In the hands of two accomplished musicians who are well-versed in both classical and jazz, Vieaux and Labro's performance captured the essence of Tango Nuevo. As they would throughout the evening the dynamic duo performed from one musical mind – all unison technical passages, no matter how fast, were perfectly in sync. And they were obviously having a lot of fun during some extended improvisations. Keep reading the full review here
Review by J Hunter
Photographs by Rudy Lu
Some music just needs to be seen in a small space. For instance, even though Troy Savings Bank Music Hall was acoustically perfect for Hot Club of San Francisco, both the band and the music seemed "too small for the room" during their appearance last year. In comparison, Hot Club of Detroit's show at the Van Dyck Restaurant & Lounge last Friday night (February 1) was not just perfectly wonderful – it was also perfectly scaled. Maybe the Van Dyck's concert space is a loft instead of a basement, and it may also be a non-smoking environment, but a band and its sound has never seemed more at home.